2014 update:Jackass Mountain was included in the more than 1 million acres of Harney County burned by wildfire during the summer of 2012. Its blackened state has been replaced by wide expanses of grassland, however, due to extremely dry weather conditions, vegetation is recovering slowly. To a great extent, the soil remains exposed and fragile.

The views from Jackass Rim are stupendous. This is a small scarp by Basin and Range standards, but its vertical rise of a thousand feet or so, loses nothing by its size. It seems as if one step will send you soaring, just like the golden eagles, hawks and falcons that nest here. This is a grand place for cloud watchers.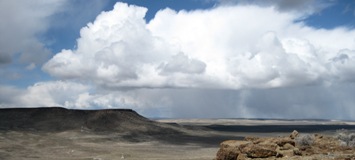 For some twenty miles, the rim provides stunning views of Steens Mountain and vast Harney Basin. Directly below, the Donner und Blitzen River winds though the Malheur National Wildlife Refuge cuts a green strip through the desert as it makes its way toward landlocked Harney Lake. To the east, snowy Steens Mountain fills the view.

Hidden behind its face of Jackass Rim, a complex of broken layers hold ephemeral lakes and bonsai juniper forests. On the long gentle western slope, herds of wild horses, pronghorn, and mule deer wander.
Sample Pack Trip: PEANUT LAKE

The face of Jackass Mountain rises as a 1000 foot scarp directly above the hamlet of Frenchglen. This trip accesses two of the large lake basins hidden within it.
The first day we will follow an old jeep trail that climbs through a notch in the massive cliffs. After breaching the scarp, we traverse north to Peanut Lake using animal trails and cross-country routes. Along the way we visit a bonsai juniper tree forest and side trails leading to stunning views of the Malheur Wildlife Refuge and Steens Mountain. Our campsite is at an unnamed lake where high rims protect us from harsh wind and weather. On our second day, we retrace our tracks to the parking area on Highway 205 at P-Hill above Frenchglen.
This trip has a 350 foot climb stretched over 0.35 miles creating a 19% grade. It is steep but short. Please note that the lakes are often dry.
DAY
Travel Distance
Elevation Change
Average Grade
Elevation at end of Day
One
Two
TOTAL
4.3 miles
4.3 miles
8.6 miles
+811 -627= +184
+627 -811= -184
+1133 -1133
6%
6%
----
4960
4776
5220 high point
Sample Pack Trip: FIVEMILE LAKE

The view of Steens Mountain from the Fivemile Lake area is spectacular.

Elevation loss and gain is on the Fivemile Lake trip is 1800 feet stretched over eleven and a half miles. The route consists of jeep and animal trails.
Fivemile Lake lies on a high terrace hidden in a break of Jackass Mountain's 1200 foot-high rim. To reach it we begin on a jeep trail but quickly switch to animal trails and cross-country travel.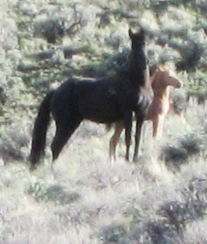 Some trails are narrow and demanding while others, particularly the wild horse trails, are easily negotiated. There are several large lakes in this area, all of them usually dry, tucked into spectacular high-rimmed basins. Between Camps 1 and 2 we will visit a juniper forest of particularly old and gnarled specimens that grow out of nearly solid rock. Camp 2 sits in a wind protected hollow with magnificent views of Malheur Wildlife Refuge spread out below. Our third day's route includes walking the top of the mountains' rim in a wildly expansive experience of space and distance.
Alternate campsites on this trip allow us to adjust our daily travel distance effectively to group needs. The following table allows for a short first day's hike.
DAY
Travel Distance
Elevation Change
Average Grade
Elevation at end of Day
One
Two
Three
TOTAL
1.8 miles
3.2 miles
6.5 miles
11.5 miles
+616 -77= +599
+711 -414= +296
+710 -1543= -833
+1786 -1786
7%
7%
7%
9%
4713
5007
4175
4175 lowest/5350 highest
Website update: 02FEB2022
&copy Burns Llama Trailblazers LLC herd@burnsllamatrailblazers.com