At Drinkwater Pass, about forty miles east of Burns, Oregon, Highway 20 crosses a narrow gap between huge ancient lava flows. South of the pass these lava flows form rimrocked rolling tables that sit high above adjacent country. Grass grows tall here and views fall away into forever.

Below the cliffs, if you can find a way through, the land changes abruptly into powdery white deposits left by ancient oceans. Intricate mazes of eroded hills hide springs of surprising flow and beauty. To the southwest six mile long Warm Springs Reservoir shimmers in the desert sun. Around the entire area the Malheur River flows in a tight 16 mile deep loop, making water always within reach.
Sample Pack Trip: ALTNOW GAP
Beginning at Drinkwater Pass this trip takes us onto the high reaches of Carey table.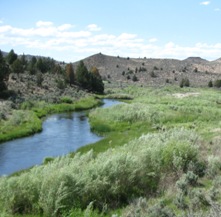 Broad expanses of native grass, sagebrush and scattered junipers frame vistas of distant Steens Mountain and the rolling country between. In the spring, bighorn sheep can be spotted here. Sage grouse are a possibility and pronghorn are common. The route uses old jeep trails and cattle paths to move us across the rocky country before dropping through massive rimrock cliffs to the powdery ancient seabed soils below. On day one, we work our way across the northern expanse to Altnow Gap, a narrow saddle between the tables. Day two takes us through the rimrock and down to the Malheur River. We then wind north through hills that once comprised ocean floor. On day three, we climb out of the hills and return to Drinkwater Pass.
DAY
Travel Distance
Elevation Change
Average Grade
Elevation at end of Day
One
Two
Three
TOTAL
4.5 miles
4.9 miles
3.8 miles
13.2 miles
+826 -388= +438
+776 -1551= -775
+854 -513= +341
+2290 -2290
5%
9%
7%
7%
4680
3906
4247
3468 lowest/4742 highest
Website update: 02FEB2022
&copy Burns Llama Trailblazers LLC herd@burnsllamatrailblazers.com