The Special Edition
Born: October 14, 1994
Conchero (full Chilean) X Bo Peep HE18
Weight: 385 lbs.
Height: 46.5 inches at withers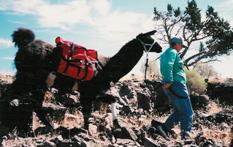 Ed has been successful in the ALSA show ring and is a PLTA Master Pack Llama. He has proven to be an exceptional packer who easily handles the rigors of the trailless outback. Ed has completed numerous backcountry treks. He regularly serves as the tail on a six-llama string; a position that requires expert 'trail sense' in this rugged country.

In the show ring Ed achieved his ALSA Halter Championship and ROM title quickly and has also been successful in the performance rings earning his Recognition of Merit (ROMs) in obstacle, public relations and pack. He has been awarded overall performance champion at one show and reserve performance champion at three.

Ed's size, willingness to please, desire to work, and athletic ability have been passed on consistently to his offspring, many of whom also are pack llamas and perform well in the show ring.