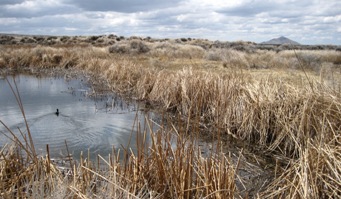 Every year as winter turns to spring, the waterfowl return to Harney Basin and the Malheur Wildlife Refuge sponsors the John Scharff Migratory Bird Festival. (Detailed information and registration for tours can be found at http://www.migratorybirdfestival.com)

On Friday and Saturday of the festival, refuge managers give Burns Llama Trailblazers special permission to escort a group of birders into an area normally closed to the public. Crane Pond, Boca Lake and Double O Ranch are among the destinations. This is the only time these areas are open and a are very special treat. Eight of our best packers are assigned to individual birders as they enjoy the views and great birding. Our 2014 tours will visit the Double O Ranch with a retired refuge biologist along to provide birding assistance and information about the area.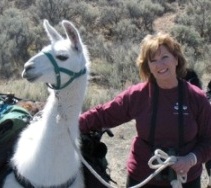 The llamas are happy to be out on an easy hike after a long winter plowing through snowdrifts to stay in condition. The routes follow flat jeep trails along the waters' edge. Distances vary but are arranged to accommodate the group's abilities. Birds are always present but the list of what we will see changes. We usually see a variety of ducks. Swans and geese may be present. We have even been closely inspected by golden eagles. Coots are always with us.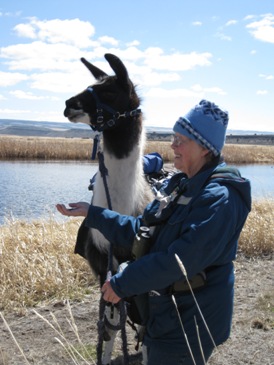 Each participant is assigned a llama for the day. They are encouraged to work with the llama as much as they like. This can include saddling and unsaddling, loading and leading. All necessary aspects of handling the llamas is clearly demonstrated and supervised. Each llama carries his persons' gear during the day. A picnic lunch is had at the midway point as we admire the birds. The hiking distance ranges from three to five miles depending on the trip.

Weather can be very changeable on these outings. We can experience everything from warm sun to blowing snow in one trip. Fortunately all the locations we choose provide some cover, whether it be a rocky ridge or bank of sheltering willows.